Letter of introduction from the new Officer Commanding 1(Fighter) Squadron
Article posted 9th January 2019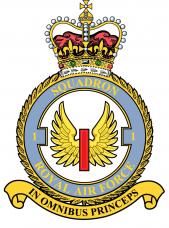 I would like to take the opportunity of introducing myself as the new Officer Commanding 1(Fighter) Squadron. I am honoured and humbled to have been selected to command the most prestigious fighter squadron in the Royal Air Force and I very much look forward to the challenges that lie ahead.
This is my second tour as a member of 1(F) Sqn, and as a 'former member' nothing could be better than to return to lead such a fine unit. My first operational tours were as a Harrier pilot on IV(AC) Sqn and then 1(F) Sqn as a QWI, completing over 150 missions on Op HERRICK. This operational experience has allowed me to know with certainty and authority that 1(F) Sqn is currently the finest Combat Ready unit in the Royal Air Force. I am determined that the commitment, enthusiasm and professionalism of the Sqn personnel is harnessed to ensure that this remains the case.
You will be aware that these are busy times for Defence, and Combat Air in particular. I am pleased to be able to report that the Squadron is in fine shape after an intense but successful period of operations and exercises: here in the UK; in the Falkland Islands; Romania; and the Middle East. We currently have the role of being part of the UK's Very High Readiness Force, which we will hold through the winter months.
I will endeavour to stay in touch and keep you informed of the Squadron's progress throughout my tour. It has been wonderful to hear in detail from Chris what generous support you have given him and the Sqn over the years. Please know that you are always welcome at RAF Lossiemouth and it would be my pleasure to host you any time you wish to return to the Sqn. I understand that the location of RAF Lossiemouth is not ideal for most, so I will look for an occasion for us all to get together in the south at the earliest opportunity. May I extend best wishes to you as we enter the Christmas Season and I very much look forward to meeting soon.
In Omnibus Princeps