Number 1 (Fighter) Squadron Association gets tweeting!
Article posted 14th December 2011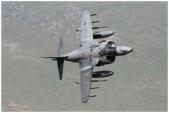 A Twitter account has been set up for the Number 1 (Fighter) Squadron Association, it is: twitter.com/onefightersquad
Twitter is an online social networking and microblogging service that enables its users to send and read text-based posts of up to 140 characters informally known as "tweets". Twitter, a user-generated content revolution, has demonstrated its power very publicly recently, with examples from around the world. The immediacy and simplicity it provides the 300 Million users worldwide, gives the public the upper hand over traditional news mediums.
This is part of a new strategic marketing approach by the Squadron Association and has been compiled with the help of a new partner representing the best in the field, renowned Midlands based social media specialist marketing agency BlueEyed Digital Marketing.
To assist current Association members and to encourage its use and take advantage of its benefits, a new free guide to Twitter has been produced by BlueEyed Digital called "Twitter for the Twitterphobic." It explains Twitter in no-nonsense English and provides clear on-screen diagrams outlining how Twitter works, how to set up your own account and how to get 'tweeting'.
The link to the Twitter: http://twitter.com/onefightersquad
Number 1 (Fighter) Squadron - Overview
Number 1 Squadron was formed on 13th May 1912 from No 1 Company RE as part of the newly established Royal Flying Corps, thus making it one of the oldest military flying squadrons in the world.
The Squadron has operated some of the most iconic fighter aircraft in the world, including the Nieuport Scout, SE-5, Hawker Fury, Hurricane, Typhoon, Spitfire, Meteor, Hunter and the Harrier, the first and most successful VSTOL fighter in the history of military aviation.
Over the years the Squadron fought dog fights with the Red Baron and in the Battle of Britain, it participated in the "D" day landings and in Operation Market Garden ("a bridge too far"), shot down doodlebugs, helped pioneer the jet age and played a vital role in the Falklands, Kosovo, Iraq and Afghanistan conflicts.
Darin Tudor, the newly appointed Honorary Marketing Manager for Number 1 (Fighter) Squadron Association, outlined his aims for the squadron:
"My role within the Association is to reach out and attract personnel of all ranks who have served with Number 1 (Fighter) Squadron to join us, become involved and to re-establish and maintain friendly contact. There will also be the potential to stimulate worthwhile, long-term networking relationships with their fellow members.
Twitter now compliments and supports our newly launched website www.1fsa.org
In Omnibus Princeps – First in all Things
Number 1 in history: 100 years in the making, the oldest military air squadron in the world, Number 1 in innovation: At the heart of the most iconic, cutting edge fighter aircraft in the world