Newsletter February 2011
Article posted 22nd November 2011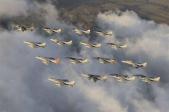 2010 was a sad year for No. 1 (F) Squadron with the announcement of the disbandment of the Joint Force Harrier and of the Squadrons that formed it.
The last Harrier flight took place on 15th December 2010 and took the form of a combined formation which toured the UK. See below.
There was a combined disbandment parade at Royal Air Force Wittering on 28th January 2011 for No. 1(F) Squadron, No. IV(R) Squadron, and No. 800 Squadron RNAS. The occasion was extremely poignant, especially when the three Standards were slow-marched out of the hangar to the strains of Auld Lang Syne.
There was then a service in Stamford to lay up the standards, which can now be viewed in All Saints Church.
It is now incumbent upon the Association and its members to keep alive the spirit of No.1 (F) Squadron until the Squadron is reformed. We trust that association members will support the reunions both this year and, in particular, in 2012 when we will celebrate the centenary of the formation of No.1 (F) Squadron. The 2012 centenary reunion will be held on 19th May 2012, final details have yet to be decided.