The new Number 1(Fighter) Squadron Association President takes post
Article posted 24th April 2013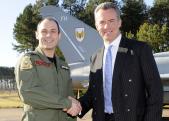 It is my very great pleasure to introduce myself as the new President of the No 1(Fighter) Squadron Association. My predecessor John Feesey has done an outstanding job at the helm the past few years, cultivating a vibrant organisation and a number of exciting new initiatives under development, and we all wish him well with his forthcoming challenges.
Having had the great privilege of commanding the Squadron over a decade ago, it was a genuine pleasure to visit the Squadron recently at its new home in Scotland. The team there has bedded down very swiftly and it stirred the soul to see their new steed - the Typhoon multi-role fighter - representing the most capable weapons system in the Squadron's illustrious history, slip the surly bonds of earth and race into the blue skies over Scotland. As the oldest military flying unit on earth, the Squadron has served in Flanders, Mesopotamia and Germany, and played a vital role in the Battles of France and Britain amongst others, but it is the people who provide a Squadron's true operational capability.
The No 1(Fighter) Squadron Association's primary focus is the people, past and present, who have served or are serving on the most distinguished Squadron in the world, and we will certainly need to maximise our collective efforts if we are to capitalise on our excellent on-line profile to reach out to the full spectrum of potential members. I look forward to playing my part in ensuring that the history, heritage and professionalism that has been a foundation of the Squadron's success across the decades serves as a beacon for those who are charged with delivering operational success in the service of our nation today and into the future.
Sean
S M BELL
Air Vice-Marshal (Retd)
President Number 1(Fighter) Squadron Association