Number 1 (Fighter) Squadron Assoc Strategy Update
Article posted 12th May 2017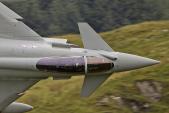 Number 1(Fighter) Squadron has a unique history and heritage that epitomises the professionalism, esprit-de-corps, courage and tenacity of the Royal Air Force. Throughout its long and distinguished history, Number 1 (Fighter) Squadron has been equipped with state-of-the art capability, operated and sustained by a determined and dedicated team. The Squadron has throughout its long and distinguished history been equipped with some of the most modern and pioneering platforms available. From being one of the first squadrons to operate the Avro 504 in France during WWI, Spitfires and Typhoons in WWII, and the unique VSTOL Harrier Jump Jet, the Squadron has always lived up to its motto, In Omnibus Princeps. Today, the Squadron operates the iconic Typhoon multi-role aircraft, which is already proving a world-class capability in the hands of the serving Squadron. The Number 1(Fighter) Squadron Association provides the people history of this unique part of our nation's proud military heritage, and maintains a symbiotic relationship with the serving team in recognition of the enduring professionalism, courage, innovation and resilience of one of the oldest Squadrons in the RAF's history.
As the RAF approaches its Centenary, The Association is keen to recognise and embrace the wider Team UK approach to delivering military capability. Without the national industrial powerhouse, and the innovation and brilliant vision of our nation's scientists and engineers, few if any of the iconic flying machines that have defined the Squadron would have been developed. Military capability – particularly for a technological service like the RAF – is only generated with a powerful team approach between industry and military, to create pioneering battle-winning capabilities that have preserved our nation's security and safety this past century. It is through our industry partners, both large and small, that Number 1(Fighter) Squadron has developed its unique pedigree and heritage, and we intend to use the forthcoming Centenary celebrations to showcase this pivotal partnership.
Therefore, the Association intends to host a Centenary celebration dinner later in 2018 to celebrate the vital partnership that has been the foundation of Number 1(Fighter) Squadrons enduring and unique success. This event will be open to Association members but will also be inviting select industry representatives associated with the Squadron's distinguished history. More details to follow.
IN OMNIBUS PRINCEPS