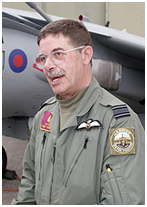 Wing Commander Tony Harper
Tony Harper is a retired RAF fighter pilot with a long background in Harrier operations. He completed five Harrier tours including operations from the aircraft carrier HMS Hermes during the Falklands campaign in 1982, from which he flew 16 operational sorties (he also took part in the initial deployment, a record breaking flight of 9hrs 15min, using Air to Air Refuelling, to Ascension Island).
Tony went on to command the Harrier detachment in Belize, Central America. He subsequently commanded the Harrier Operational Conversion Unit at RAF Wittering from 1992 to 1994.
He has over 2000 hours of Harrier flying and some 3500 hours on fighter aircraft. Since then he has worked as the Squadron "Uncle" on No 1 (Fighter) Squadron and was the Senior Careers Liaison Officer for the West Midlands and Central Wales until he retired.
He is married to Teresa and they have two adult children and two grandchildren.
Interests: In his spare time, Tony enjoys motorcycling and flying anything with wings.