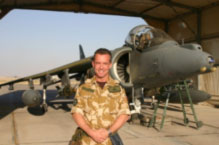 Air Vice-Marshal Sean Michael Bell commenced his RAF career in 1980, when he joined the University of London Air Squadron while reading Aeronautical Engineering at Imperial College. Following pilot training on the Jet Provost and Hawk aircraft and instructional duties flying the Jet Provost Mk 5, Air Vice-Marshal Bell joined the Harrier Force in 1989. Posted to RAF Germany in 1990, Air Vice-Marshal Bell joined No 3(Fighter) Squadron at RAF Gütersloh, then RAF Laarbruch, and qualified as a Harrier Qualified Weapons & Flying Instructor (QWI/QFI).
He commanded 1 (Fighter) Squadron from 1999-2001, and the Harrier Force from 2005 to 2007, and completed staff tours in Canada, Abbey Wood (Bristol) and several in the MOD. In addition, he served on numerous overseas operations: the Air Operations Co-ordination Centre (AOCC) in Sarajevo in support of the UN/NATO in 1995; commanding the Air Cell for HQ 1(UK) Armoured Division (Forward) in support of Op TELIC - the invasion of Iraq; numerous operational deployments embarked on Her Majesty's Aircraft Carriers; and 3 tours in Afghanistan concluding with just under a year in Kabul to serve the International Stabilisation and Assistance Force (ISAF) with responsibility for Air Ops over Afghanistan.
Air Vice-Marshal Bell was promoted to his current rank in November 2010 and appointed Director General Saudi Armed Forces Projects. His final tour in the RAF was heading a Strategic Combat Air Review, working directly for the Chief of the Air Staff.